Audio Research Reference 6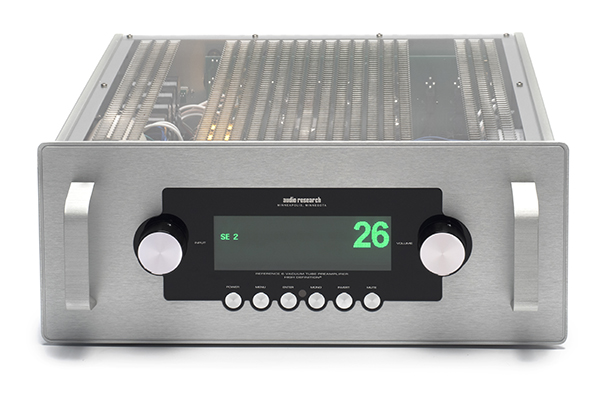 With a lineage stretching back to 1970 Audio Research, based in Minneapolis, Minnesota has built their reputation on constant, engineering based improvements to their products. Their Reference linestage preamplifier line remains a coveted commodity among ARC enthusiasts, and the Reference 6 linestage preamplifier solidly continues this tradition. Based heavily on what was learned creating the two chassis, Reference 10 flagship, makes for a major jump in performance over the outgoing REF 5/5SE, an award winning linestage in its own right.
More than a pretty face
On the outside, the REF 6 sports some eye-catching changes. ARC's new chassis design was engineered for two reasons. First, ARC is updating the aesthetic of the Ref line. A clean, modern appearance moves away from the classic, more industrial ARC look. The visual design of the REF 6 comes straight from the desk of Livio Cucuzza and his team, the ones responsible for the trend setting aesthetic of the highly popular G-Series. Tastefully integrating style cues from the past models with a more modern look and better finish work, Audio Research components finally look as good as they sound.
ARC's team also built in a greater level of structural rigidity intended to "assist in the dissipation of electrical and mechanical interferences." Immediately evident is the beautifully milled faceplate, available in either an anodized back finish or the natural aluminum finish of our review sample. Substantial handles on the front of the REF 6 pay homage to past models, offering a visual contrast to the otherwise flat front. The handles also offer a practical function when moving and placing the 36.5 lb. (16.6 kg) linestage. With overall dimensions of 19" (48 cm) W x 7.8" (19.8 cm) H x 16.5" (41.9 cm) D, the hefty REF 6 requires a fair amount of real estate on the audio rack.
When placing it, headroom is another important consideration. The tube complement generates a lot of heat and adequate ventilation is necessary for the long-term health of the unit. Under the REF 6's transparent, vented Lucite hood, the owner can witness the tidy circuitry within. The tube complement consists of six 6H30P dual triodes, plus a single 6550C and a 6H30 regulating the beefy power supply.
As part of the newly-adopted aesthetic, an elegant simplicity drives layout of the REF 6 control panel. In addition to the large input selection and volume knobs, six dime-sized buttons manage the rest of the adjustments. Specific buttons control power-up, a choice between mono or stereo playback, phase reversal, and mute. The remaining two buttons, "menu" and "enter" bring to life the REF 6 menu options, and allow the owner to customize his or her preferences for each.
To get the most from the REF 6 tube complement, one menu option allows the user to see the number of hours on the current tubes. According to AR, new 6550WE tubes should serve their owner for about 2,000 hours, and the 6H30 tubes offer roughly twice that life span. When the tubes eventually wear out, ARC offers carefully matched replacement tubes. As there are not a lot of variations on the 6H30 tube, just giving the factory a call is the easiest way to roll. To maximize tube life, owners will delight in another REF 6 feature. The owner can set an automatic preamp shutdown to engage at a one to eight-hour interval. This feature can be disabled if you prefer fully manual control.
The REF 6 also offers the ability to assign a specific input for home theater pass-through in instances where the linestage is part of a larger home theater system. In this scenario, the REF 6's volume control disengages when that particular source is selected, deferring to the surround sound processor's volume controls. The ability to assign names to each of the REF 6 inputs also makes it easy to keep inputs straight on more complex systems.
ARC has always offered a very basic, plastic remote. Keeping with the aesthetic of the new design a milled aluminum remote accompanies the REF 6 and REF Phono 3. It's a nice, but not ostentatious touch that complements the new look, and is roughly the size of the plastic remote of old. Prospective owners should note that the REF 6 sports a 20-amp IEC power socket, so if you are contemplating a power cord upgrade, plan accordingly or find a high quality adaptor, like the one from Shunyata.
Featuring four inputs, each having the option of single ended RCA or balanced XLR connectors makes the REF 6 one of the most versatile linestages going. Two sets of RCA and XLR variable outputs are joined by a fixed level, record out option – handy for those either stepping up to the tape game or digitizing some of their favorite music. 12 volt trigger and RS-232 interfaces are also available for those wanting to tie everything together, or in a custom install situation.
Music to my ears
When the power button is depressed, the REF 6 kicks into a 45-second warm-up mode, bringing the tubes up to temperature slowly, maximizing their lifespan. Mute is engaged automatically during that process, and must be un-muted before music can proceed.
Right out the gate, the REF 6 proves stunning in several ways. The immediately enveloping soundstage has musical elements bursting in all directions, projecting a seemingly limitless picture that defies speaker placement. Airy subtleties reside in the distance above, below, and behind the speakers offering a spooky level of realism, and the REF 6 is one of a very short list of special linestages that renders an incredibly real picture of the recording without crossing the line of being super sized for effect. Listening to Lucinda Williams "Can't Let Go" places her in my listening room at a correct size, making the presentation that much more believable.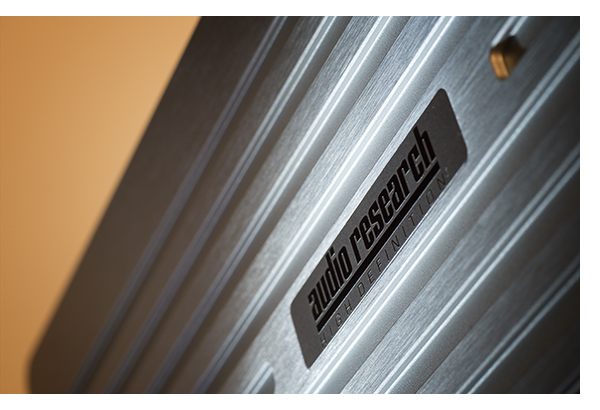 Combined, these characteristics give not only insight into the subtleties engineered into a song, but a sense of the space used to record it. At the same time, the musical picture never seems artificially inflated. Similarly, the organ notes in Johnny Cash's treatment of "Danny Boy" found on American IV: The Man Comes Around, paint a palpable picture of the cathedral used as the recording location. Cash's gravelly immediacy, combined with the subtle reverberation in the recording hall has me looking over my shoulder, feeling if I've seen a ghost.
In my reference system, the REF 6 provides a very slight degree of warmth to the musical picture alongside its ability to retrieve tiny sonic details from a recording. In my experience enjoying equipment over the years, that balance can be a tenuous one for a product designer to achieve. A convincingly realistic and detailed presentation is desirable, but that sonic goal can sometimes lean toward an overly-lush sound, or be accompanied by etch or stridency. The REF 6 never hints toward either extreme which can detract from the organic sense of the musical presentation. The REF 6 provides a relaxed and natural musical flow emitting from the speakers. It's easy to get lost in the sanctuary of beloved recordings and forget about everything else.
Bass reproduction represents another strong suit. On tracks like Jane's Addiction's "Three Days" all the pluck, resonance and rumble the sound engineer captured in the bass guitar track are projected with convincing authority. However, bass in never reproduced in an overly-accentuated, or one-note way. Again, the REF 6 reveals its innate character for organic reproduction. No apparent sonic manipulation colors the window into the music.
Regardless of musical genre, the REF 6 steps up to the challenge. Listening to classical, jazz, rock, electronica, reggae, vocal performances and anything else thrown at the REF 6, it never fails to impress. When speed and agility are demanded by the music, it delivers. Similarly, when delicacy and nuance are dictated by a recording, REF 6 nails that as well. Green Day's American Idiot projects with all the angst and attitude one could hope from the album. In contrast, chamber music reveals the subtle differences between the various stringed instruments with ease.
Simply put, the REF 6 is among the finest linestages I've had the pleasure of hearing in my own listening space – it's hard to imagine expecting or wanting more from a preamplifier. It would be easy to live with this linestage for the long haul. This caliber of musical prowess doesn't come cheap, but at $14,000 it's not crazy money either. Most importantly, the price has only increased $1,000 over that of the outgoing REF 5SE, so that's major progress.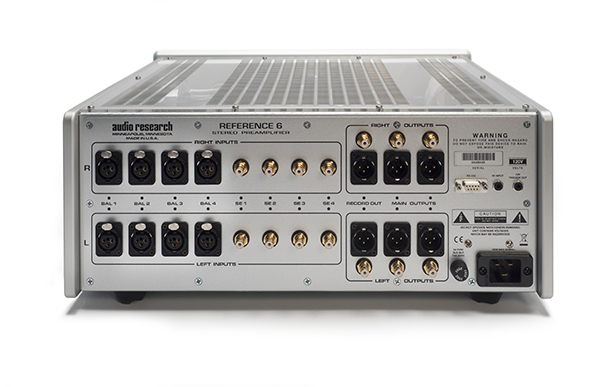 Additional Listening:  Jeff Dorgay
Being a Midwestern native, I've always appreciated the sheer practicality of the folks at Audio Research. Unlike my days of writing about digital cameras, sometimes a year before product is available, ARC rarely puts review gear in to the review stream until they've delivered the goods to their loyal customers. Bravo.
Needless to say, TONE staffer Tom Caselli was one of the first guys on the list and had his a few weeks before ours arrived, and he was quick to let us know the good news. "Amazing, way better than the REF 5SE that I traded in." Other fellow audiophiles I know that are doggedly loyal to the brand echoed the same sentiment, at a higher level of enthusiasm than normal too, so the buzz was building around here.
Having owned the REF 5 and 5SE models and going way back with numerous ARC preamplifiers over the years, the REF 6 is a wider jump up the evolutionary chain than the past few models. As Rob mentions, it draws heavily on what was learned in the development cycle of the REF 10. At some point it may just be time for a head to head comparison…
While many have been asking for said comparison with the GSPre that has been residing here for some time, that's not a fair fight, as the GSPre includes an excellent phono stage along with a headphone amplifier. Think of the GSPre as offering about 2.5 quarts of what a gallon of the REF 6 does with the other bits thrown in. The REF 6 will more than likely appeal to a different customer a few clicks higher on the audio food chain.
On top of all the sonic improvements, ARC has drastically diminished the time to great sound with their products. They still mention in the owners manual that the REF 6 will take 5-600 hours to sound its best, but unlike past designs, this one sounds fantastic out of the box. Granted, it does improve with time, but the delta is not quite as dramatic as in past models.
Whether you use the REF 6 as a reviewer's tool or simply to relish your music collection, make no mistake: this is a destination component. There are a few others lurking that have a different sonic flavor, reveal a bit more music, or have a few more bells and whistles, but they will cost a lot more. In terms of sheer musicality, the REF 6 is the one to beat for $13,000.
Whatever they are up to in the lab at ARC is working. The REF 6 retains all the strengths of the outgoing REF 5 series, yet is more extended and dynamic, while adding more soul and musical saturation than the past model. That's not an easy achievement, and I always wonder how they do it.
Keeping the price at $14,000 is impressive, especially in light of the major sonic and aesthetic improvements. The tough question is "should you trade up?" This depends on you. The REF 5 or 5 SE you currently own is certainly not rubbish by any sense of the word. They are currently fetching about $9,000 on the secondary market, so if you just have to have more juice, you won't be disappointed. The REF 6 is not an update you have to strain to hear.
These are agonizing questions you ask when staring at the ceiling at 3a.m.. Who would have ever thought 30 years ago that audio engineers in 2016 would be pulling still more performance from triode tubes to increase our musical listening pleasure? That's pretty cool. For those of you not suffering from trade up anxiety, run don't walk to your ARC dealer and check it out. This linestage offers so much legacy, performance and long term value, we are happy to give it one of our Exceptional Value Awards for 2016. Life is short. Buy one.
---
The last time I reviewed an Audio Research component—it was the VTM200 monoblock amplifier in January 2001—my hair was mostly dark brown. The wait since has been not of my choosing, but that's now flux under the circuit board. Since then, much has happened to both me and to the Audio Research Corporation, a long-lived company for which the descriptor "legendary" is well deserved.William Z. Johnson founded ARC in 1970, in Minneapolis (the company later moved to Plymouth, Minnesota). He passed away 41 years later, on December 10, 2011. In an interview published in the August 1994 issue of Stereophile, Johnson, who was also ARC's chief engineer and was rightly credited with single-handedly reintroducing vacuum tubes to high-end audio, said this of his designs of the 1970s:
"I tried transistors, but I thought the sound that I was able to generate with various design approaches was horrendous—it was terrible. Then when FETs came along, I tried again. And while we were able to design circuits with some relatively good numbers, the sound quality still wasn't there. As the years went by, of course, that tended to change. Since then, we've made some inroads with both bipolars and FETs. Today I would have to say that our various solid-state products are probably superior to the early tube units.
"In saying that, however, it's still true that, with an all-out design effort, vacuum tubes will win. . . . [Younger readers should know that in the early days of ARC, the idea of designing by listening as opposed to solely by measuring was a radical concept.—MF]
"[T]he measurement techniques we use today really don't necessarily tell you about the sound quality. Obviously, if it measures badly, it isn't going to sound good. But the simple fact that it measures well doesn't assure that it will sound good."
In 2008, three years before his death, Johnson sold ARC to Fine Sounds, a subsidiary of the Italian private equity fund Quadrivio, which also owned McIntosh Laboratories, Sonus Faber, Sumiko, and Wadia Digital. Quadrivio subsequently sold Fine Sounds to its current owners, Mauro Grange and Charlie Randall, who renamed the company The McIntosh Group. The acquisition seems to have been good for ARC and for its loyal, worldwide fan base.
Livio Cucuzza, chief industrial designer for the entire McIntosh Group—his father was an Audio Research dealer in Italy—redesigned ARC's entire line, modernizing the look while retaining some classic Audio Research elements. The results are, in my opinion, eye-catching, though some complained about the "plastic" knobs. But the knobs aren't plastic: they're made of a black-anodized aluminum that's difficult to produce and is sourced overseas. (Almost all other parts used in ARC products, other than the tubes, are made in the US, much of it in or near Minnesota.) Whether you prefer the bold new look or the older, hospital-instrument aesthetic is a matter of taste. I like the new look. More important, based on the Reference 6 ($14,000)—introduced last year, and a major upgrade of the Reference 5 SE—ARC seems able to invest in serious upgrades of casework, circuits, and parts without significantly raising the price.
Audio Research products are designed by a team led by director of engineering Ward Fiebiger, a 37-year ARC veteran, and Dennis Petrich, who's been with the company since 2008. Warren Gehl is in charge of "sonic development." Gehl takes seriously William Johnson's adage: "the simple fact that it measures well doesn't assure that it will sound good." Working with the engineers, Warren helps "tune" the sound of each new model. He not only passes judgment on every new ARC design, he listens to every ARC product before it leaves the factory (footnote 1).
Operating System
Installing a new component in an audio system is like bringing home a new puppy. Sometimes, the addition fits in as if it's always been there; other times, accommodating it requires a lot of time and effort. Some gear I've installed has immediately improved the system's sound—or, at least, provided a perspective on the music just as valid if different from that of the component it replaced. Other gear has required changes up and down the chain to bring the system back into pleasing balance (footnote 2).
ARC's Reference 6, run in balanced mode, slipped into my system like a fully house-trained puppy. Its sound was different from that of my reference preamp, a darTZeel NHB-18NS—either the original (most recently priced at CHF31,700, approximately $32,665 by today's exchange rates) or the all-new ($39,500) version, soon to be reviewed—but within a few tracks its contributions seemed to slip under my radar, reappearing only when I began to take serious note of its qualities both positive (most of them) and negative.
Replacing the Reference 5 SE ($12,995), introduced in 2011, the Reference 6 has circuits so heavily revised from its predecessor's that there's little point in comparing them, other than to say that everything has been upgraded and enhanced, including a more massive power transformer, an improved volume control circuit, and newly developed custom capacitors. The audio circuit includes three 6H30 dual-triode tubes per channel; the power supply has one 6H30 and one 6550WE tube.
A great deal of attention has been paid to the design of the new, massive, custom-machined aluminum enclosure, which has unusually massive side panels—all of which is intended to act as an energy sink to drain away internally created vibrations.
On the front panel are two large, encoder-controlled rotary knobs, for Input (left) and Volume (right). Input selects among the eight inputs, the names of which can be customized; Volume adjusts the loudness in 103 steps. Between the knobs is a large fluorescent display, and below that are six smaller pushbuttons, from left to right: Power, Menu, Enter, Mono, Invert, and Mute.
On the large rear panel are four pairs each of balanced (XLR) and single-ended (RCA) inputs, two pairs each of balanced (XLR) and single-ended (RCA) outputs, and balanced and single-ended Record Outs. There are also IR input and 12V trigger outs, an RS-232 connector, a fuse bay, and a 20-amp IEC mains jack. All is laid out cleanly; the jacks are generously spaced, to accept even the widest-diameter RCA plugs. The rear panel is spacious and easy to use.
The menu system includes some really useful options. You can set up the Reference 6 to remember a different volume setting for each input, or have it reset all inputs to zero when powered off. You can name the inputs or leave them with their default numbers. And because the software remembers the level settings and you can switch inputs from the remote control, running A/B comparisons is really easy.
The display is easy to read, even from across the room. When you push the Mute button, "Mute" appears in large letters directly above that button. Ditto with Invert (inverts absolute phase) and Mono. This seems a no-brainer, but not all displays present their components' functions so clearly. In terms of setup and use, the Reference 6 proved a total pleasure.
Some old-school Audio Research fans preferred the maze of knobs and toggle switches found on such vintage models as the legendary SP-11, from the mid-1980s, which then cost $5000 (including two-input phono section). But today, with software, so much more can be done more simply, and with less smudging of the signal path.
The aluminum remote-control handset is nicely machined and well laid out. It provides complete control over every front-panel function, plus Balance, Display Brightness Up/Down/Off, and Hours, which displays how many hours the tubes have been run. In the old days, you either kept a log of this information, or changed tubes with neurotic frequency because you'd lost your log, or never kept one.
Sound
Some say that the ideal preamplifier is a "straight wire with attenuation/gain" that efficiently routes the audio signal from the various inputs. Others—I'm one of them—have concluded that because ideals do not exist in the real world, the best preamp is the one that minimally alters the sound, and whose minimal alterations are themselves subtly pleasing in ways that may even enhance the sound qualities of the system's other components.
That may offend the sensibilities of those purists who demand absolute accuracy, but in audio, there's really no such thing. Nonetheless, at the very least, a preamplifier should be wideband, linear, and produce low amounts of distortion and noise.
But can everything be measured? The months I spent enjoying the Audio Research Reference 6 told me that what William Z. Johnson said in 1994 holds true today. As I write this, I have no idea how the Reference 6 has performed on John Atkinson's test bench, though its published specifications indicate: an exceptionally wide frequency response of 0.4Hz–200kHz, +0/–3dB, in balanced mode at rated output into 200k ohms; distortion of <0.01% at 2V RMS, balanced output; and crosstalk measuring –88dB or better at 1 and 10kHz.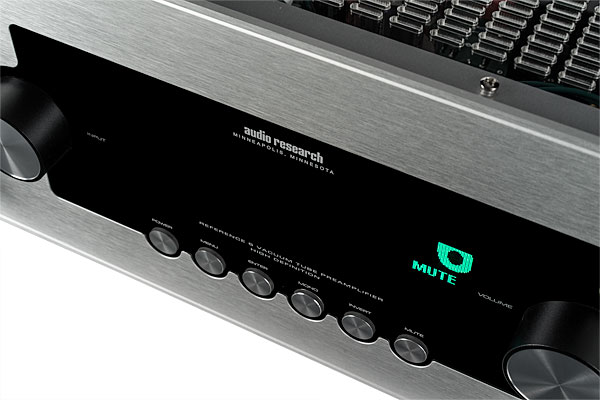 What I do know is that after I'd installed the Reference 6, late on a hot August evening, that first night of listening produced intense surprises that I'm sure can't be measured. Record after record, I found that the Reference 6 greatly increased my understanding of very familiar recordings, seeming to enhance the intentions of the musicians, even when their sounds were generated electronically.
I'd begun my listening thinking I'd be evaluating the differences between my reference preamplifier, the darTZeel NHB-18NS, and the Reference 6 in terms of the usual frequency response, soundstaging, tonality, and so on. But those took a back seat to the ARC's ability to let me lock on to and follow rhythmic and instrumental paths that had previously been blocked or lost in the sonic shuffle, as well as hear fleshed-out strings from recordings that had previously sounded somewhat thin. Far from fulfilling the tube-gear clichés of "glorious midrange, no bottom-end grunt," the Reference 6 packed a surprisingly solid bottom-end wallop, topped off by grab-and-hold grip. Not what I'd expected.
The first album I played was Eno's Another Green World (UK LP, Polydor Deluxe 2302 069), one of my favorites for sticky, late-summer nights. Eno plays all the instruments in "In Dark Trees," including synth percussion that sounds like claves. Although the performance is generated entirely electronically, I'd never before heard it sound so round and woody, nor had the attacks ever been so delicately and perfectly expressed—nor had the decays ever evaporated so convincingly after each synthesized stroke. What's more, the way the notes floated in three-dimensional space, moving slightly forward and back with changes in the intensity of the strokes, caught me by surprise—after 41 years of playing this record!
But mostly what I realized, after the record had finished and I was able to put what I'd heard into perspective, was the "correctness" of the entire presentation, especially the grippiness of the bass lines, midbass resolution that uncovered some heretofore hidden details, and the convincing roundness of Eno's voice set at the center of a bubble in three-dimensional space.
At the same time, it was obvious that while the Reference 6 was definitely less dynamic, less detailed, less transparent, less fully extended or resolving in the upper octaves than the darTZeel—which costs more than twice as much—the ARC was an exceptionally skilled and unerringly convincing teller of sound stories that revealed, with every record I played, musically significant information not found in the usual checklist of sonic attributes.
Just as 10 people will describe the same event 10 different ways, some more accurately than others, different audio components will present different descriptions of the same musical event, some more accurately and more cogently than others—and a special few can polish the sound free of objectionable musical seams, even if they buff out some of the details.
Some components omit too much, and so make everything sound at first beautiful—and then, pretty soon, boring. (Some cartridges with overly burnished sound do this, for sure). Others resolve all of the detail, and produce gobs of air and crystalline highs that at first mesmerize, then grate and cause fatigue, producing a disjointed effect overall. There are records like that as well, particularly some of the older, over-equalized reissues from Mobile Fidelity Sound Lab. I've just compared MoFi's vinyl remastering of Pink Floyd's Atom Heart Mother (LP, MFSL 1-202) with the new one from the band's own label (LP, Pink Floyd/Parlophone PFRLP5), on which a sticker proclaims "REMASTERED FROM THE ORIGINAL ANALOGUE TAPES BY JAMES GUTHRIE, JOEL PLANTE AND BERNIE GRUNDMAN." While some of the other releases from Pink Floyd Records sound dull, this one is tonally ideal and coherent; the MoFi sounds disjointed and bright.
The Reference 6 managed an exceptional combination of overall perfection of timing, in which everything arrived at the right time, and lingered just long enough before gracefully evaporating. It also managed to reproduce unerringly convincing harmonic structures that produced lush, true colors and solid, three-dimensional images. If you like a meaty sound, the Reference 6 is perfect for carnivores. Its sound was decidedly lush in the mids, but without smothering the upper mids and lower trebles. Instead, the latter pushed their way forward just far enough to produce sweet, clean, believable, exciting sound.
If the recording had it, the soundstage was deep, with instruments well layered and organized in space. Some of the recent reissues on vinyl from Pure Pleasure have sounded suspiciously digital—not tonally, but spatially. This is clear when I play them through my reference darTZeel preamp, and I wanted to hear if the Reference 6 could be similarly revealing. I had that chance with Pure Pleasure's reissue of Paul Desmond's (with Strings) lush and lovely Desmond Blue, featuring guitarist Jim Hall, recorded in 1962 by Ray Hall (no relation) (LP, RCA Living Stereo/Pure Pleasure LSP-2438). On the original LP, the airy space of New York's Webster Hall is apparent behind the strings, which are clearly spread across the stage, Desmond and Hall well focused in front. On the reissue, there's no sense of space. It's a flat picture, strings and soloists mushed up against a plane. (It sounds like phase incoherence.) The Reference 6 revealed all of this, as well as the mess that is Pure Pleasure's mono reissue of Nina Simone's very first album, from 1957: Little Girl Blue (LP, Bethlehem/Pure Pleasure BCP 6028). This is a great album—so get Analogue Productions' stereo reissue (AAPJ 083), cut from the original analog tape.
Playing the Clash's very familiar London Calling, whether original LP (CLASH3) or CD, made it clear that the Reference 6 attenuated the very top to some degree. This album's usually ringing, shimmering cymbals sounded somewhat muted, and the snare, while meaty, lacked some of its crack. But this was more than compensated for by the verisimilitude of the voices—I'd never heard Joe Strummer sound so Strummery, or Mick Jones's harmonies so Jonesy—and the way the ARC put everything in order in terms of timing and space, plus its robust bottom end and overall forward thrust. The Reference 6 could definitely do rock'n'roll, despite its somewhat polite top—which ended up being very kind to grating digits.
The Reference 6 was also decidedly ready for classical. The latest reissue from the Electric Recording Company is the Brahms Violin Concerto, with violinist Leonid Kogan and Kyril Kondrashin conducting the Philharmonia Orchestra (EMI SAX 2307/Electric Recording Company ERC027). This recording was first issued in 1960; an original pressing recently sold on eBay for $889, and a few years ago a copy went for $1236 on Collector's Frenzy—the 300 copies pressed by ERC each sell for £450 (ca $585 at time of writing). The Reference 6 lost some of the air, but the harmonic structure and tonality of the violin and the overall orchestral sound were stunning enough to make me forget about gear.
Conclusions
Early on, Audio Research built its reputation on its tubed preamplifiers (footnote 3). From reviews I've read over the years of ARC products I couldn't afford and never got to hear, they've had their ups and downs. Friends who own the Reference 5 SE, which I've not heard, say that the Reference 6 is a major improvement in terms of both sound and ergonomics. I believe them. The Reference 6 was an absolute pleasure to have in my system. I installed it and immediately fell in love with it, so strong were its positive attributes, so ultimately unimportant its minor shortcomings.
The Reference 6 made music. I have no doubt its sound has been sculpted and contoured in a particular way, just as was the sound of the Reference 2, which I reviewed in the September 2000 issue, and which then cost $9995. Adjusted for inflation, that would be $13,979 today—just $21 less than the Reference 6. When I reread my review of the Reference 2, I saw that it hit similar sonic points. The Ref 2 is long gone from my system, but I'm confident that the Ref 6 is far superior in every way—and particularly in its top-to-bottom seamlessness and resolution of detail. And ergonomically, the Reference 6 is the product of a different and far better world.
In rereading that review, I also noticed that the Reference 2 hadn't seemed able to even suggest, let alone match, the Reference 6's ability to communicate—something you have to hear for yourself. Leaving aside the usual sonic checklist, on which the Reference 6 did a very good job of ticking boxes, its most appealing sonic qualities surely won't show up in the measurements. Bill Johnson was right.
Description
Description: Remote-controlled, fully balanced, tubed preamplifier.
Tube complement: six 6H30P dual-triodes, one 6550WE, one 6H30P.
Frequency response: 0.4Hz–200kHz, +0/–3dB at rated output.
Voltage gain: 12dB balanced, 6dB single-ended.
Hum and noise: 1.7µV RMS residual IHF-weighted noise output with gain control set to "1" (109dB below 2V RMS balanced output).
Distortion: <0.01% at 2V RMS balanced output.
Output impedance: 600 ohms balanced, 300 ohms single-ended.
Recommended load: 20k ohms minimum resistance and 2nF maximum capacitance.
Input impedance: 120k ohms balanced, 60k ohms single-ended.
Crosstalk: –88dB or better at 1kHz and 10kHz.
Power requirements: 100–135VAC, 60Hz (200–270VAC, 50/60Hz), 130W. Standby: 2W.
Dimensions: 18.9″ (480mm) W by 7.8″ (198mm) H by 16.5″ (419mm) D. Weights: 36.6 lbs (16.6kg) net, 52.9 lbs (24kg) shipping.
Price: $14,000. Approximate number of dealers: 45. Warranty: 3 years, parts & labor; 90 days, tubes.