Arcam FMJ AVR750 Amplifier
Arcam AVR750 reviews
---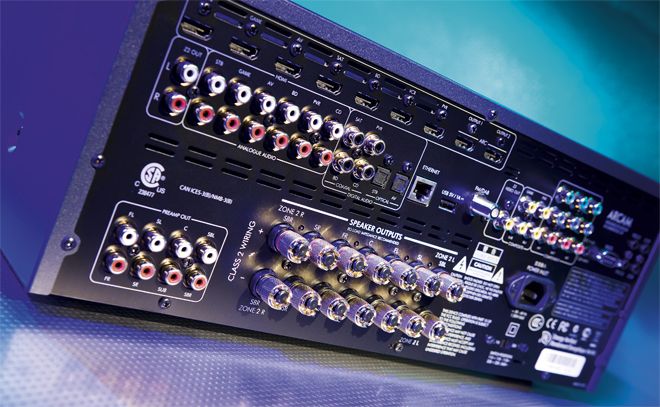 Revamped electronics
While some elements of the AVR750 recall its antecedents, there have been big changes beneath the hood. The entire HDMI and video processing stage is new, sourced from Analog Devices. This is quite a change from its predecessor, which featured software specifically written in-house by Arcam. Unfortunately, that bravery led to a number of reliability issues.
In comparison, this platform appears bulletproof. The receiver's video switching time has improved, too, and the AVR basically handshakes with every hot plug as soon as it's powered up, which dramatically improves overall slickness and usability. All sources can be upscaled to 4K resolution.
The supplied CR450 remote is a backlit, learning zapper. It also comes pre-programmed for other Arcam devices, and, in time-honoured tradition, button functionality changes depending on which source device is selected. A comprehensive guide to this multi-functionality is provided in the tutorial booklet.
Despite its high-end designation, the AVR750 is not a difficult receiver to set up and optimize. Typically in a home cinema system, you'll declare all speakers to be small regardless of their physical size, thereby allowing the subwoofer to handle lower-frequency information. However, given the AVR750's audiophile leanings, this approach may not always be appropriate; helpfully, you can elect to configure the AVR750 for stereo listening differently.
The Arcam ships with an Auto Speaker setup calibration mic, which performs the usual enclosure measurements and room EQ sleight of hand. You can elect to manually select which inputs benefit from this equalisation – ideal if you prefer certain sources uncoloured. While I preferred the AVR750 sans EQ in two-channel mode, this calibration certainly helped multichannel material. The routine takes a little longer to complete than rival systems, but positional accuracy is very good. Inevitably, though, some further tweaking was done to get the most agreeable sound balance.
When it comes to a user interface, the AVR750 offers a utilitarian face to the world. In fact, the UI is the same as that featured on the AVR600, but at least it's far more responsive this time around. Cinephiles more concerned with the performance chops of the system are unlikely to be put off by such frugality.
The AVR750 is networked for audio, offering playback from uPnP-enabled devices, as well as internet radio via vTuner. Media compatibility is standard, with MP3, WMA, WAV, FLAC and M4A/AAC files all playing from both USB and across a network from a NAS. There's no album art support, though. There's no screensaver mode, either – so plasma owners beware.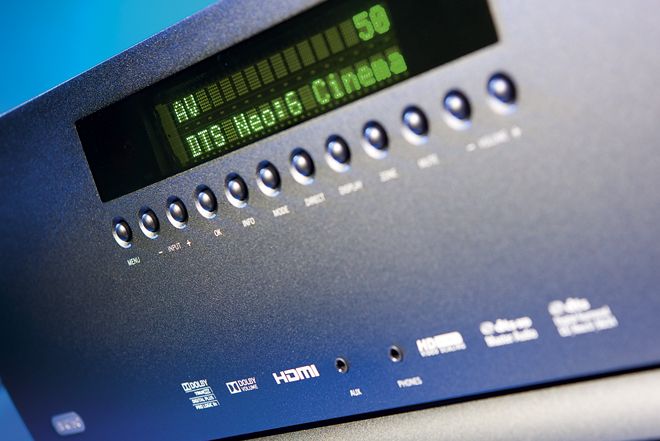 Two-channel tenacity
In audiophile guise, Stereo Direct is the way to go. This bypasses all processing and circumnavigates surround effects. As there's no bass management, nothing is directed to the subwoofer channel. The resulting two-channel performance is positively seductive.
Seraphim (Angel Mix) by Digitonal, a FLAC download from Linn Records, has a soundstage that grows wider and deeper as the track progresses, and the AVR750 sings along sweetly. Arcam makes no bones about the fact that this receiver has been engineered first and foremost to convey believable music, confident that once that's achieved all other aspects will fall into place.
The AVR750 sounds similarly glorious with multichannel music (EQ employed). Kosuke Yamashita's The Earth Overture in 192kHz/24-bit 7.1 Linear PCM is suitably grandiose.
Of course, AV-Holics might be forgiven for thinking that any AVR whose DNA was forged in a musical furnace will sound fey and gutless with ballsy action fare. However, this Arcam will prove them wrong.
The AVR750 is brawnier than a pumped-up Sylvester Stallone – an analogy given credence by the lengthy pre-credit sequence in The Expendables 2 (Blu-ray). The AVR750 delivers the magnificent chaos of this madcap 7.1 DTS-HD Master Audio mix without the vaguest hint of exhaustion. As Sly's Bad Attitude convoy blasts through the Nepalese compound, the receiver disgorges ordnance and falling masonry with huge dynamics.
The wraparound imaging is fast and furious, with dialogue cleanly delineated (no mean feat given the scenery-chewing cast). It's all breathlessly exciting. There's a temptation with the AVR750 to see just how far you can push its reserves, but in anything other than a theatre-sized space you'll hit the pain threshold before the receiver squirms.
The AVR750 doesn't feature an over-abundance of multichannel processing modes. Codec support covers the basics – Dolby TrueHD, Dolby Digital Plus and Pro-Logic IIx, along with DTS-HD MA and DTS-ES 6.1. Arcam's top-flight receiver holds no truck with height or width processing (hardly surprising considering it only offers seven channels) nor any of the virtual science proffered by the likes of Sony's STR-DA5800ES. This is very much a classical AV package.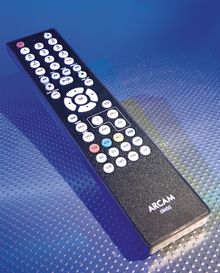 That's not to say fun can't be had with some of the Arcam's old-school modes. With genuine 7.1 mixes still in short supply, Dolby Digital EX works well in fleshing out the surround with 5.1 sources. The opening sequence to Transformers: Dark of The Moon (Sky Movies) immediately becomes more immersive when EX is applied. As the animated Paramount logo encircles the listener, the 360-degree pan gets a little vague in 5.1; with EX on and those rear back channels engaged, there's no holes in the wall of sound.
The receiver is rated to deliver 130W (into eight Ohms) with two channels driven, dropping to around 100W when all seven channels are in flight. However, this doesn't really give a sense of the transient response offered by the onboard power plant. This can run 20W of low-distortion Class A across all channels (more than the AVR600 and cooler, too), but switches in another supply using larger capacitors when things really kick off. Which is probably why it sounds so elegant with music but is unfazed by mayhem.
As an aside, it's worth mentioning that I also listened to the AVR750 utilising Arcam's inspired rBlink. A diminutive Bluetooth DAC, this allows users to stream from their mobile device to the big AVR. The results were surprisingly musical.
Effortlessly confident
There is no escaping the fact that Arcam's AVR750 is a magnificent-sounding AV receiver. Easily the most accomplished AVR from the brand to date, it's effortlessly confident with multichannel and is a luxurious two-channel listen as well. While it's perhaps regrettable that little operational niceties such as HDMI passthrough and GUI flourishes have been ignored, particularly given the lofty price point, the business-like specification probably won't worry those seeking second-to-none audio. This delivers a titanic listening experience, regardless of your sound and vision predilection. Book a demo now now.
One of the few multichannel amplifiers we've heard that does a great job with both movies and music, particularly the surround variety 
Tested at £4000
---
Arcam's AVR750 is a rare thing: a surround amplifier that sounds really good with music.
While not perfect, it has cohesion and rhythmic precision that we haven't heard matched by any rival.
Design
As is usually the case there's no big secret ingredient here. Just a careful, holistic approach to sonic engineering based on Arcam's decade's worth of experience.
Care over basics such as circuit layout and power supply can be taken as read, but the world of multichannel makes things much harder.
Here, many channels of power amplification and an appropriately hefty power supply – both of which exhibit large currents, related magnetic fields and a fair dose of electrical noise – sit close to the preamp, digital-to-analogue conversion stages and various processing boards.
It's very difficult to stop the various sections interacting with each other adversely. It takes experience and skill to get it right – Arcam isn't short of either quality.
Even something as apparently simple as the volume control is carefully thought out.
In the AVR750, it's a resistive ladder arrangement – as seen on some higher-end stereo preamplifier designs – which only has a single resistor in the signal path at any one time. This approach improves clarity and reduces distortion.
The power amplifier section is unusual too. It works in a mixture of Class A and Class G modes.
Circuitry working in Class A mode has long been thought of as the optimum for sound quality but has issues in terms of high energy consumption and the resultant heat generated.
Class G (something we rarely come across) modulates the power supply rails, depending on demand, to optimise efficiency – extra power is only provided when it's needed.
The AVR750, with its seven power amplifier channels (each rated at 100W output into eight ohms), would need heatsinks the size of a washing machine to get rid of all that heat if working solely in Class A.
Arcam's solution is to use Class A up to 30W output and then switch to Class G when really high power levels are required. It's a clever compromise that results in plenty of poke, lots of quality and acceptable amounts of heat.
Arcam has also put a lot of effort in getting HDMI switching to work properly. It's an area most rivals cracked years ago.
The company's earlier models were a little erratic in this respect, leading to plenty of frustrated users as the amplifier dithered while trying to lock on to a signal.
We had no such problems with this model. It proved as stable in this respect as any of the competition, despite many attempts to get it to trip up.
Build quality
General build quality is good. The AVR750 feeling solid and well finished, but it's not significantly classier than leading rival Yamaha's RX-A3030, which retails for about half as much. If you're after a truly high-end luxury feel you'll be disappointed.
Take a look at the on-screen menus and it's clear that the engineers have tried to keep thing simple as possible, and on the whole this amplifier is easy to navigate as anything this complex is likely to get.
The supplied remote is a decent affair with sensibly placed buttons and a relatively simple layout, but once again doesn't feel like it belongs to a £4000 product.
Control app
Try the iOS control app and it too is a mixed affair. The app is very informative as far as showing amplifier status is concerned.
You'll know exactly what kind of video signal is being received and the type of sound track it's passing through.
It's a great analysis tool but lacks the user friendliness (and, yes, fun too) that alternatives from the likes of Pioneer have.
That the amplifier is a little dim-witted when it comes to responding to commands doesn't help matters. Others, even at far lower prices, offer a slicker user experience.
Sound quality
Get past these numerous niggles and it's clear that Arcam has a sonic winner.
If you want an all-round amplifier that plays both movies and music well, we haven't come across better at anywhere near this price point.
Play the action-packed John Carter with the volume cranked-up and the Arcam responds with glee.
Home cinema amplifier manufacturers are notoriously free and easy with power output figures, claiming hundreds or watts of output even from their entry-level amplifiers.
These power ratings are recorded under highly favourable conditions that barely hint at real world circumstances driving real speakers.
Against this type of backdrop Arcam has been conservative.
It claims 100W per channel output from its seven channels of power amplification – fairly similar to the kind of figures we see from typical £500 alternatives – but in use there's no comparison.
The AVR750 delivers high volume levels with ease, staying clean and composed even when pushed by large-scale battle scenes. There's no hint of hardness or excess brightness.
Instead, you get a stable and composed sound that wraps around the listener in a convincing way. Sounds move around between the channels seamlessly, and with precision.
Most of all we're impressed by the detail on offer, the Arcam revealing subtleties in the sound track few rival offerings would communicate.
When we first listened, our initial feeling was that the Arcam, for all its insight, was a little small scale and a touch too polite. We're used to top-end surround amplifiers having loads of attack and seismic levels of punch, and the AVR750 didn't quite do it for us.
That impression changes as volume levels rise. As we watch Michael Jackson's This Is It we're struck by the hide-behind-the sofa slam on offer during Smooth Criminal.
There's masses of punch here and a dynamic reach that leaves the cheaper competition well behind.
Even more impressive, and arguably the AVR750's star turn, is its rhythmic ability. Multichannel amplifiers, even the very best we've heard, never quite have the sense of rhythmic integrity of good stereo music amplification.
This one is different.
By multichannel standards it's little less than superb. The timing relationships between instruments and other sounds is maintained and delivered with a sense of momentum rarely heard from such equipment.
This makes the music more exciting, and certainly more enjoyable. This skill also helps with movie soundtracks helping to build tension and drama as required.
Switch to stereo music, either through the AVR750's analogue inputs fed by Audiolab's terrific 8200CD, HDMI from Arcam's BDP-300 or on-board sources such as Network streaming, and internet radio delivers excellent results.
We'd still take a dedicated stereo amplifier such as Naim's Nait 5si over this Arcam if stereo music reproduction were our main priority, but for a multichannel unit it is excellent.
Verdict
The Arcam's tonality is nicely judged and there's a lovely balance between refinement and attack, whether listening in surround or stereo. Just keep the volume up and you'll be in for a treat.
If you want one amplifier to do it all this Arcam comes closer to that ideal than anything else we've heard at this price. It's not flawless, but it is very good indeed.
Description
TECHNICAL SPECIFICATIONS
Continuous power output, per channel, 8Ω/4Ω
2 channels driven, 20Hz – 20kHz, <0.02% THD – 120W/200W
2 channels driven, 1kHz, 0.2% THD – 130W/210W
7 channels driven, 1kHz, 0.2% THD – 100W/—
Residual noise & hum (A-wtd) – <0.15mV
Audio Performance (Stereo line inputs)
Signal/noise ratio (A-wtd, stereo direct) – 110dB
Frequency response – 20Hz—20kHz ± 0.1dB
Video Inputs
HDMI – x7, Component – x3, Composite – x4
Video Outputs
HDMI – x2 (ARC Compatible), Z2 – x1 (Composite)
Audio Inputs
HDMI – x7, Coax SPDIF – x4, Toslink – x2, RCA Phono – x6, USB input, Ethernet Client, Internet Radio, ARC (from display)
Audio Outputs
7.1 Pre-amp ouput – 6x RCA Phono
Zone 2 output – RCA Phono
Radio Tuner
FM / DAB / DAB+ (in appropriate markets)
Supported Surround Modes Include
Dolby TrueHD, Dolby Digital Plus, Dolby Digital EX, Dolby Digital 5.1, Dolby Pro Logic IIx DTS-HD Master Audio, DTS-ES 6.1 Discrete, DTS-ES 6.1 Matrix, DTS 5.1
General
Power consumption (max) – 1.5kW (approx. 5200 BTU/hour)
Power consumption (standby) – <0.5W
Dimensions & Weights
W x D (inc. speaker terminals) x H (inc. feet) – 433 x 425 x 171mm
Weight (net) – 16.7kg
Weight (packed) – 20.0kg