Audio Physic Scorpio II
R105,000.00
What a brilliant easy sounding speaker! Stunning condition except for a small nick on driver and corner of the unit. Photo enhanced to make it visible.
http://novo.press/audio-physic-scorpio-ii-loudspeakers/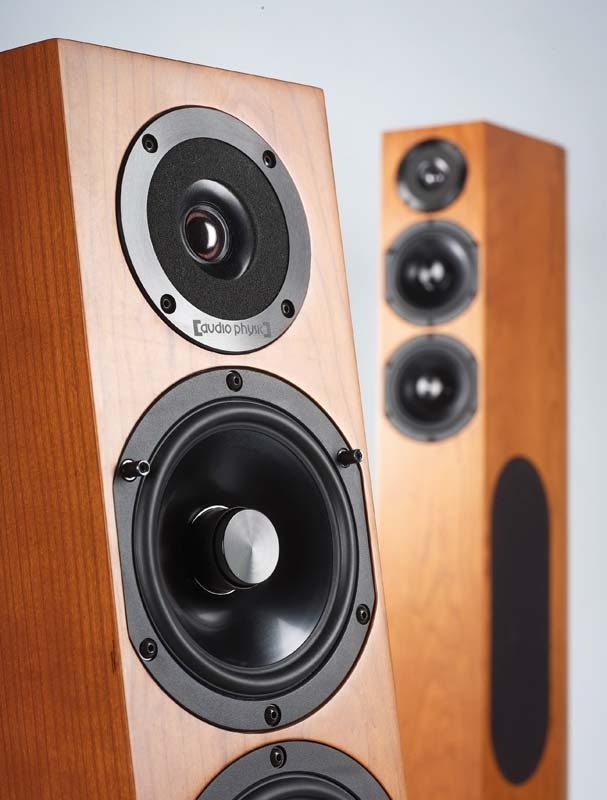 Further proof of the Scorpio II's ability to create a three dimensional stage came when I listened to Radiohead's "Ok Computer" album on CD. Tracks such as "Paranoid Andriod" and "Subterranean Homesick Alien" were presented in enormously large sonic landscapes. Sounds were coming from several feet to the sides of the physical position of the left and right speakers. The depth of the soundstage was equally impressive – on many of the tracks, the sounds came from far beyond the back wall of my listening room. Unlike other floorstanders of this size, this soundstage also had a good height component to it. Of course producing a soundstage that has good width, depth and height is only part of the equation. A good speaker should also be able to precisely position and move sounds within this soundstage. And the Scorpio II speakers did this exactly right – at times vocals and instruments came from just behind my rear wall, other times they came from way further back (and everywhere in between). Ditto for the left to right imaging. All of theses variables resulted in some of the most satisfying 2-channel audio I've heard in a while. In fact, it wasn't just audio – it was more of a multi-dimensional sonic presentation. What about the complex, multi-layered audio? "Ok Computer" contains many instruments and effects superimposed on top of each other, which can sound like a harsh sonic mish-mash on lesser speakers. But the Scorpio II's didn't have any problems resolving this type of audio. The combined presentation of the layers was pleasant to my ears and if I focused on a particular layer, I could easily pick it out from the audio. Perhaps the only aspect that I felt was missing from the overall sonic presentation were the lowest of the frequencies – the Scorpio II didn't play as low as other floorstanders that I've listened to in the past.
The Scorpio II speakers aren't difficult speakers to drive and should work well with most amplifiers. In fact, during the time they spent I my house, I also listened to them connected to a Fatman iTube 452 integrated tube amplifier (also reviewed in this issue). The added warmth and harmonics were a nice treat that some listeners would surely appreciate.
My first encounter with Audio Physic was an enjoyable experience. Its Scorpio II speakers gave me a glimpse of what can be expected from the company's higher and lower priced speaker models. If you're looking for a speaker that is coherent, dynamic and delivers a highly detailed sound, without unnecessary brightness, you should definitely give these speakers a listen. Top all of this off with a few choices of beautiful finishes and a very comfortable cabinet size, and you have a worthy contender in the speaker business.
This speaker is VERY well reviewed and now replaced with the Scorpio 25 @ $9995 (R150 000 incl all)
For more information here are some links:
Stereophile…
The Audio Physic philosophy is
unmistakable. New models and their
successors are no longer being
designed to provide even higher
resolution, without compromise. From
now on, it's natural sound and important
tonal adjustments that seem to take
higher precedence. With this approach,
Audio Physic has clearly broken
previous traditions. The Scorpio II loudspeaker
isn't just an innovative development.
Everywhere you look, its aesthetic
design and exquisite workmanship
complete what proves to be an extremely
positive overall picture. This loudspeaker
isn't just an all-rounder, but a particularly
authentic highlight, in which Audio Physic
has succeeded in that famous task of
hitting the nail on the head. Listening to
its splendid sound is like travelling through
a previously unknown picturesque landscape,
in which Mother Nature still has
some surprising new features in store
for you. It's this thought that brings back
the pleasant memory of Tina Turner's
"Simply the Best", the first CD used to
try out the loudspeaker. I can tell you
that right now, in the 4500 Euro price
range, the Scorpio II really is simply the
best.
http://www.audiophysic.com/download/scorpio/scorpio2_hoererlebnis_09_2009.pdf