Acoustic Zen Adagio
R80,000.00
Conclusion
To say that I was impressed with the Adagios would be an understatement. I thoroughly enjoyed them and Mr. Lee has made a successful migration into the world of loudspeaker design. The Adagio's will appeal to both the music lover and the most ardent home decorating aficionado who cherishes playback equipment that has a stunning visual effect. From the beginning, Mr. Lee's intent was to design a loudspeaker that sounds great, looks great and most importantly, is priced so that most audiophiles can afford them. But then that shouldn't come as a surprise because Mr. Lee's cables are excellent value products that can go toe-to-toe with the best.
At $4,300.00 for the pair the Adagios represent a considerable bargain when you take into account the expense behind producing underhung drivers, a transmission line design and a high-end furniture finish that would be at home in any major showroom.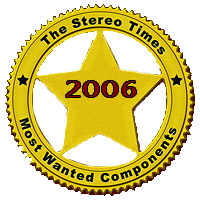 So after a few months of intimate exposure I can say with supreme confidence that Mr. Lee has exceeded his original expectations both aesthetically and musically and has another special product on his hands. The Adagios' high resolution capabilities, neutral presentation, and exceptional imaging, will reward the most discriminating audiophile with true high-end performance that is usually only experienced, for save the most expensive designs. The Adagio's sweet and balanced sound will appease many and should definitely be auditioned to hear how wonderfully music is reproduced. I was so amazed by the performance of the Adagios that I didn't hesitate to nominate them with a Most Wanted Component Award. This is one fantastic loudspeaker that comes strongly recommended.
No speaker is absolutely perfect and if I had to find a quibble with the Adagio it's that it doesn't reproduce the last octave of or so of bass. It drives deeply and cleanly into the 30 Hz regions and then rolls off gracefully below that. If you're into fully fleshed out pipe organ music or some rock material that contains lots of synth laden moments, you probably won't notice, but the addition of a subwoofer may afford some improvement and augment an already stunning performer. Don't misunderstand, the Adagio has incredible bottom end. Listening to the Saint Saens "Symphony No. 3, Organ" finale, or to Seal's tune "Crazy" with its low synth lines at about five minutes in, the bottom is all there and doesn't break up, just not to that last degree of extension that makes your frame rattle internally and that usually requires a lot more size and dollars. The only other caveat, they are on the heavy side and may not be the easiest beasts to move around but once you get them placed, that shouldn't be a big deal.
I'd like to try some other electronics somewhere along the line, like maybe something from Ayre or Belles, or BAT, or LFD and see how that may affect the Adagio's performance but I can only imagine that an upgrade anywhere along the chain will not adversely affect it. If it's truly an upgrade, you're gonna hear it with this speaker! There are some other speakers that intrigue me as well and that I'd like to try, maybe Harbeth or Vienna or Gallo, but I wouldn't want to do that without having the Adagios firmly in place to compare the others to, and even at that, I'd bet they would stay firmly in place after those comparisons. I have had the opportunity to hear the larger Acoustic Zen Crescendo and that would certainly be an upgrade, although they may be a bit much for my room and at $16k a bit much for my bank account, but again I believe that speaker performs well beyond the abilities of most that are even an order of magnitude higher in price. Not sure how Robert gets all the sound he does at his price points but his work is truly refreshing amongst much of what's out there in the audio world today. Hats off to him for a spectacular design that's musical, accurate, and one heckuva bargain!
Description
Specifications
| | |
| --- | --- |
| Design | 2-way transmission line |
| Frequency Response | 30 Hz to 25 kHz (+/- 3 dB) |
| Crossover | 3rd order (Linkwitz/Riley) |
| Tweeter | 1 5/8″ round ribbon |
| Midrange/Woofer | 2 6.5″ underhung voice coil drivers |
| Impedance | 6 Ohms nominal |
| Efficiency | 89 dB SPL @ 1 meter |
| Power Handling | 50 – 200 wpc RMS |
| Dimensions | 48″ H x 9″ W x 13″ D |
| | 1219mm H x 229mm W x 330mm D |
| Weight | 78 lbs. (33.5 Kg) each |